Spirit of the Age
Fake News, Brexit, Rioters, Hackers, Cyber-Stalking, Botnet, Zombie (Internet), Viruses, Trojans.

Financial Crisis, stock market gambling, hedge funds, City-Boy of London, short-time working, scrapping premium.

Locusts: buy companies at a symbolic price, sell patents and know-how,
file for bankruptcy, close companies, destroy jobs.

Management without visions: Falling returns, cutting R & D budget, dismissing employees.

Wellbeing Society, reform jam, avoid responsibility, budgetary emergency, educational emergency.

Subsidizing renewable energy at the expense of the private electricity consumers.

Interact on social networks via Smart-Phone, Facebook and Twitter.

Abuse of social networks: Manipulating the citizen and defaming the political opponent.

Distribution Psychosis: To divide the pie so that everyone believes they own the biggest piece.

Madness: Thriftiness is cool, jacket with two pants, one believes the senses spin.

Mallorca is 'in', the air of the mountains 'out'. Scents: doping for the senses.

Discover the slowness and enjoy the sheer force of 560 hp.

War: smart bombs, bunker-bursters, drone use, warrior-in-law (suicide terrorist).

Sleeper: Indoctrinated, Recallable, Terrorist Commands Enforcer.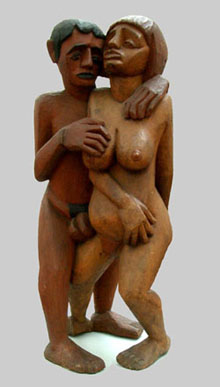 Hermann Scherer ( 1893 Lörrach - 1927 Basel)
Lovers, 1924, Wood, painted Object. Affection, tenderness and love are independent of the spirit of time. (Time and tide wait for no man!)